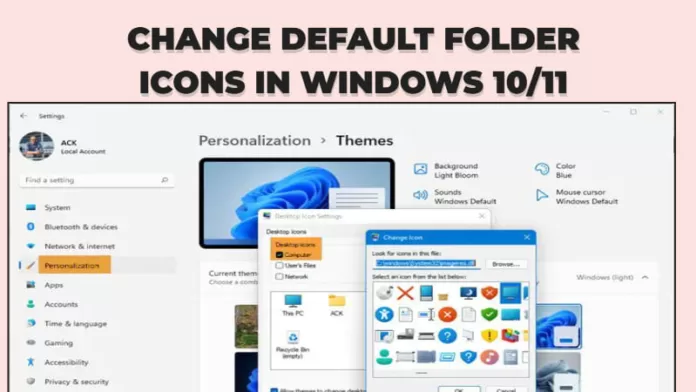 Do you want to learn How to Change Default Folder Icons in Windows 11? Aren't you bored of those same folder icons in Windows over the years? Those yellow folder icons seem zero interest.
So why not change those icons to something other, like different designs, shapes, and sizes? It is a great way to personalize your desktop. Also, it is a great way to impress your friends and crush.
But, is it difficult and requires a lot more technical knowledge to change icons. To answer this question, I would just say "No". It's a little long process, but I have guided you with each step in this blog, making it simpler for you.
Make sure it goes through the blog completely and tells us your experience.
Read Also:
How to Change the Default Folder Icon in Windows 11
Go to the folder whose icon you wish to change.
Right-click and click on Properties.
Go to the Customize section.
In the "Folder icon" section click on "Change Icon".
A lot of icon options will appear in the tab and you can go through them and choose the one that suits the folder.
Click Ok. The target folder icon will be changed.
How to Change the Default Icon View in Windows 11
You can also change the icon view in Windows 11.
Click File Explorer from the Start button or by pressing "Windows+E"
Go to the View tab
You can modify various aspects. Try all features to personalize the layout.
Once done, select Options and then Change Folder and Search Options
Go to the View tab again
Click "Apply to Folders" and click Yes in the popup.
Then Click OK. Your personalized layout is saved and you can view it.
How to Change Icon Size in Windows 11
Yes, you can also change the Icon size in Windows 11.
Go to File Explorer by pressing the "Windows+E" keys.
Right in an open area and select the View option.
Various size options will appear, select the size you want and you will see icons changed size.
How To Make It a Default Feature
Go to the file section present in the same File Explorer tab
Click "Change Folder and Search options"
In the View tab click on Apply to Folders
Click Apply and then OK. So the selected size is saved as the default size.
Read: How to Combine 2 Excel Sheets into 1: 3 Easy Methods
How to Change the Default Icon of the File Extension in Windows 11
To change the default icon of the file extension we need to download a program called File Types Manager (link: http://www.nirsoft.net/utils/file_types_manager.html)
Once the download is complete unzip the file and click on the .exe file to run the program.
Click on the Default icon.
Click Find and enter the extension, whose icon you wish to change.
Once you find your extension, right-click on it and select Edit Selected File Type.
Click the "…" option next to the default icon.
Then click on the Browse option.
The select icon you want to have and click Ok.
Hence, changes have been made.
How to Change to Default Icons Again
If you didn't like the modifications or got bored you can always switch to default icons. I will tell you how you can do that.
Go to Desktop Icon Setting (Settings > personalization > theme)
In the search tab, search the desktop icon.
Click, Show, or Hide Common Icons.
Find the one that you modified and select Restore Default Options.
Once you hit OK, icons are restored to default.
Now, you have learned how you can change Icons, their view, and size. Use them to modify your desktop and tell us your review.