I think you're curious to know, How to Create Own QR Code for free, right. I just discovered a very interesting way to use a QR code. I generated a QR Code for my WiFi and now whenever someone asks me the password, I told them to scan the QR Code, and that's it.
You can generate QR codes for different purposes and make your life easier. This is the easy and completely free process I am going to show you step by step in this post.
What is QR Code and How does it Work?
Before creating a QR code let us first know what is a QR code. Typically a QR code stands for "quick response" and is a machine code consisting of an array of black and white squares.
[TechsableAds]
QR codes are used for storing URLs and other information for reading by the camera on a smartphone. These can store information like links, coupons, event details, and many more. A QR code looks like this. But, not all of them are the same, some are different.
QR codes work similarly to barcodes. Each QR code consists of black squares and dots which have different information encrypted in them. The pattern on these codes translates the information into human-readable data.
These QR codes got on the rise in 1994 by a Japanese-origin company named "Denso Wave", the company thrives in generating and developing QR codes and data capture devices for business and industrial support.
QR codes had taken us into a new digital world of effortless transactions, cashless payments, and many more.
Read Also:
[TechsableAds]
Types of QR Codes?
We have two types of QR codes they are, Static QR codes and Dynamic QR codes. We often find these QR codes in public places like restaurants, hotels, dining areas, menu cards, events, theatres, and many more.
QR codes had made our financial life easy by providing quick and contactless payments. Nowadays there are no places without QR codes.
Static QR Codes
"STATIC QR codes" are unchangeable which means, they can't be customized once generated. These codes are can be used to link email addresses, URLs, texts, WIFI, and social media links. These are free to use and will store only limited data.
Dynamic QR Codes
Moving to the "Dynamic QR codes", these are the codes that can be modified even after they are generated and printed on paper. These are made to store bulk data and can monitor the location of scans made.
[TechsableAds]
How to Create Own QR Code for Free: Step by Step
So to create your own QR code just follow the steps given below,
Step 1: Open QR Code Website
So as the first step you have to open one website which generates the QR codes. In order to do so, you can choose one from the below list.
I am giving you an example by using this website. You can try other sites mentioned below, All websites are awesome and do a great job.
QR code Monkey
The QR Code Generator
QR-code generator
QR stuff
GOQR
QR codes are not only used for payments purpose, they are also used for, website link, text message, E-Mail, Facebook page, PDF file link, images also link,s and many more.
People usually ask, How to make a QR code for a Link?
So, I am giving you an example by creating a QR Code of our site Techsable.com. Click on the URL option.
[TechsableAds]
Step 2: Fill Required Details to Create Own QR Code for Free
After selecting the type of QR Code like we selected the URL type QR Code. The next step is to enter the details of your QR code, like your website address. Whenever someone scans this QR Code, it will lead the user to our Website. That's how QR Code works.
[TechsableAds]
Step 3: Download QR Code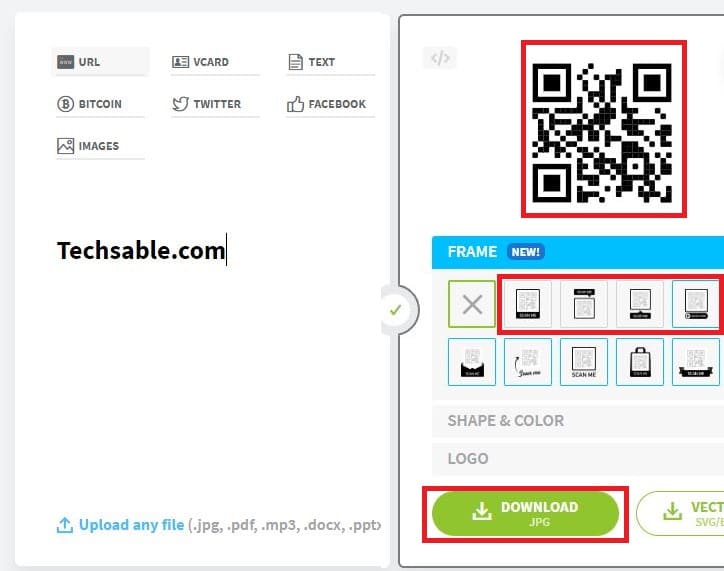 We can see our QR Code here, you can customize your QR code by adding colors, shape, frame, and many more. Now download your QR code by clicking on Download JPG and move forward to the next step which is to test running the QR code.
Read: How to Live Stream on Android Phone: Free Live Streaming Apps for Android
[TechsableAds]
Step 4: Install QR Code Scanner on Smartphone and Scan QR Code
As the last step, don't forget to test and run the QR code you generated. For doing so best free tools are QR Code scanner Apps you can find on Android Playstore & iOS Appstore for completely Free.
These tools are free to use and give you the readings of your QR code. By following these simple steps you can have your QR code for all your purposes.