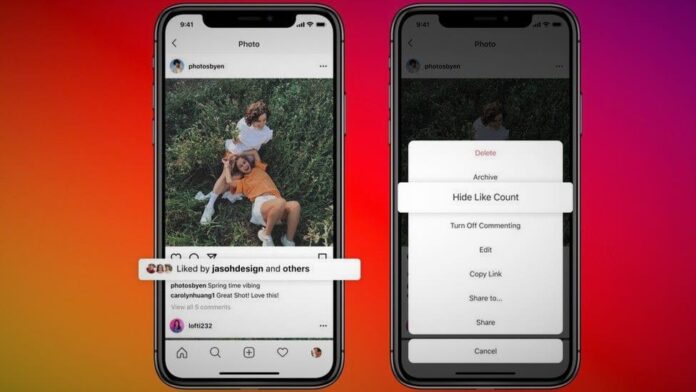 Last updated on April 18th, 2023 at 12:40 pm
Love Instagram but despise how it's turned into a popularity contest. You'll be happy to know how to conceal or hide likes on Instagram if you don't care how many people like your post.
You may still utilize your account to develop a community and showcase your talents to the world if you upload photographs, stories, and videos because sharing them has so many more benefits than just collecting likes on Instagram.
HOW TO HIDE LIKES ON INSTAGRAM
You have made the decision to conceal your Instagram likes so that only you are aware of how well your posts are performing in the Instagram popularity competition.
All that's left is for you to leap. Thankfully, Instagram makes it simple to turn off likes for your posts before or after you publish them, and you are under no obligation to do so if you don't want to.
Instagram is putting you in control and offering you options on how to manage your platform likes.
Before uploading an Instagram post, you may easily turn off likes by using a few touches on your device. This is how you do it:
Like you normally would, create your Instagram post.
Scroll all the way to the bottom of the screen before publishing and select Advanced Settings.
Tap the switch next to Hide Like and View Counts on This Post at the top of the screen to turn it on.
To post your picture or video, press Share after tapping the back arrow.
Read Also:
HOW TO HIDE LIKES ON THE ONE YOU'VE ALREADY POSTED?
It's equally simple to hide Instagram likes on posts that you've already shared. Here are the detailed directions:
Go to the post you want to conceal Instagram likes from.
In the top-right corner, above your post, click the three dots.
Select Hide Like Count.
Done! It will now say Liked by [x] and others where your like count ordinarily resides.
HOW TO HIDE LIKES ON OTHER INSTAGRAM ACCOUNTS?
Want to hide Instagram likes so you can forget about them while you move through the feed? Once more, doing it is simple.
Additionally, it enables you to focus on making insightful comments on the pieces that speak to you rather than the more well-liked posts. This is how you do it:
Go to your Instagram account.
Select Settings from the menu in the top right corner.
Press Privacy.
Click Posts.
Turn on the switch next to the words "Hide Likes and View Counts." You won't see the like numbers on posts when navigating through your Instagram feed.
HOW TO TURN OFF THE LIKES ON INSTAGRAM BEFORE POSTING?
Even if they haven't disabled like counts for their own profiles, other Instagram users won't be able to view the overall number of likes on your post if that setting is enabled.
To put it another way, after you conceal likes on a post, others won't be able to view this number. You may still view the likes and views for that specific post on your profile page, though.
Even if you've previously shared a post, you can still decide whether to show the number of likes later on.
WHY DOES INSTAGRAM ALLOW USERS TO HIDE LIKES?
You might be perplexed as to why it is even possible to hide likes.
Simply expressed, it's for our own benefit. The business began concealing like totals for specific nations to explore if this might "depressurize people's experience" on Instagram, according to a statement.
A survey of 513 Brazilian teenage females in 2020 revealed that 78% of them had attempted to cover up or alter a bodily feature they didn't like before publishing a picture.
According to another study, 43% of adolescents with poor social and emotional functioning have removed social media posts because they received too few likes.
WILL HIDING YOUR INSTAGRAM LIKES HAVE AN IMPACT ON HOW WELL YOUR POSTS PERFORM?
The question is whether or not to hide. Is there truly a difference?
In terms of Instagram, no. Although you can choose to keep your likes private from other users and yourself, the program will still keep track of them and use them as a rating indicator.
The algorithm determines what content you see first, in essence (on Stories, posts, and the Explore page). The method by which the order is established is unique to each person; it depends on what you enjoy, watch, and remark on.
Like counts can be used as a type of social proof in business. Based on your like counts, people who discover your brand for the first time on Instagram can quickly determine how big or local your company is.
However, excellent content, a unified look, and intelligent engagement with your community in the comments are far more important than the number of likes your posts receive in the end.
HOW TO FIND OUT WHO LIKED YOUR POSTS EVEN IF THEY WERE HIDDEN?
Instagram Analytics:
The in-app analytics feature of Instagram provides a summary of your account's metrics, including data on the number of accounts you've connected with, the demographics of your audience, how your follower count is increasing, and how many likes your posts receive.
You must have a Business or Creator profile in order to view Instagram insights (which is free and easy to switch to: just go to your Settings, hit Account, and then hit Switch account type).
Go to your Instagram profile from your Creator or Business profile and click the Insights option next to your bio.
Next, scroll down to the Content You Shared area to see how many posts you've made in the previous week. On the right, click the > arrow icon. (You can still click the button if you haven't posted in the last 7 days.)
Following that, Instagram will display a gallery of posts that may be filtered to display particular stats, including reach, comments, and likes.
Additionally, you can decide which posts to show (pictures, videos, or carousel posts) and for how long (the last week, month, three months, six months, year, or two years).
FREQUENTLY ASKED QUESTIONS [FAQs]
1. Does the Instagram app's ability to hide likes counts apply to other areas of the platform?
Only posts on your feed are eligible for Instagram's like count function. You can still see total like counts elsewhere if you have the option enabled, even though you won't see them in your homepage feed.
For instance, even though the like counts are suppressed on your main feed, the Reels tab still displays the overall number of likes.
2. How to Improve the Instagram Experience?
By judging posts based on their substance rather than how many likes they receive, you can take back control of your interactions with the help of Instagram's useful feature that allows you to hide like numbers.
Additionally, it's a helpful tip for concealing the number of likes on your articles, especially if you're not yet very well-known.
Read Next: