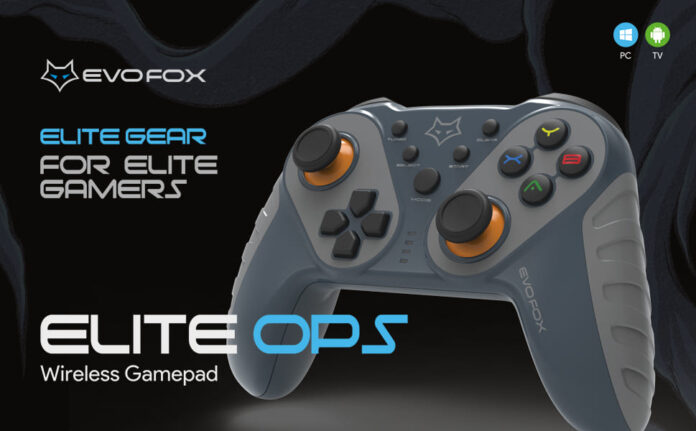 Last updated on March 7th, 2023 at 11:02 pm
EvoFox Elite Ops Wireless Gamepad Review: Best Gaming Controller for PC & Android TV in India. Yes, it is the best gaming controller for PC and Android PC and comes under 1499 rupees only.
I must say the connectivity and battery backup is amazing and also the turbo button feature keeps you from pressing the same button again and again, you can click the turbo button for that.
Amkette has been manufacturing electronic gadgets for a couple of decades now. Whether in Computer peripherals, headphones, or gaming accessories, Amkette is been delivering the best quality products to their customer at affordable prices.
No brands in the market provide these premium qualities in their product at such affordable prices. Over the years, the brand has gained massive trust from consumers across the country and has been supplying new updated gaming accessories.
If you are a gamer and like playing on consoles, with no doubt I can say you have heard about Amkette Evofox Gaming Accessories earlier. Here we are going to review, Amkette Evofox Elite OPS Wireless Gamepad.
Quick Specifications
| | | |
| --- | --- | --- |
| 1 | Weight | 0.33 kg |
| 2 | Dimensions | 20.5 * 15.5 * 6.2 cm |
| 3 | Cable type | Type C |
| 4 | Battery Capacity | 400mAh |
| 5 | Playtime | 8 hours |
| 6 | Connectivity | 2.4 GHz USB Receiver |
| 7 | Range | 10m |
| 8 | Compatibility | PC and Android TV |
Buying Options
Buy from Amazon:
Buy from Official Site:
Design & Build Quality
Amkette Gaming Accessories are always up to the mark in performance as well as in design. This Evofox Gaming Controller is designed in such a way that it is comfortable for players to play smoothly on it, boosting their gameplay and providing a better gaming experience.
It has a rugged design with a matte finish. Matte finish avoids slipping of gamepad due to sweat and provides a firm grip. Buttons are smooth and durable. Even if the gameplay gets pretty intense, buttons won't get easily damaged.
It is just 0.33 kg in weight and is designed in such a way that it has a slim body. These features make it pretty handy and comfortable for use. Slim and Light design plays an important role to focus during fast action games like war tactics, shooting, and racing.
To hold heavy controllers, we have to engage a part of our attention to it. We might feel that distraction or not, but it sure affects our gameplay.  Also, those fat controllers create pain in the palm region after some use. To avoid this you must choose a light and slim gamepad.
Battery & Charging Time
It has a 400mAh Lithium polymer battery which comes inbuilt with the gamepad. Once fully charged, you can use it for around 8 hours. That is a pretty long battery life you can see in a wireless gamepad as compared to other gamepads. As the battery is made of lithium, you don't have to face any battery problems for years.
Most of the Controllers after one or two years of use face some battery problems and the whole cost of that just goes to waste. I myself had bought one expensive controller from a well-known brand, but it was no use. I used it for just 1 or hardly 2 years and it lowered its performance in just a short span.
 This gamepad comes with a Type C charging port, so you can easily guess how fast the charging speed would be. It just requires 2 hours to charge completely and then later you can use it for 8 hours continuously.
You won't like your game to be interrupted every 2 hours just because of the charging down of your controller. It will not only worsen your gaming experience but also will affect your gameplay and game status. This Evofox OPS gamepad has 8 hours of battery life and I have personally tested its life as I use this daily.
Connectivity & Compatibility
It has Advanced 2.4 GHz wireless connectivity.  That's why it has zero lag between you pressing the button and the prescribed action being performed. Hence during intense gameplay, you can take action and beat competent as fast as you can play, with a zero-lag feature.
It sure is annoying, when action lags. Even when you have great gameplay; still you have to face a loss due to it.  It doesn't allow you to unleash your full potential. With advanced zero lag technology, Evofox Elite OPS Gamepad comes to solve your problem and lets you show your full potential.
This gamepad is compatible with both PC and Android TV. So you can play your favorite game on any screen. Most controllers miss this feature. It helps you expand your scope of gaming experience by allowing you to play on both PC as well as TV.
I usually play racing games on my PC and like to play FPS shooting games on the big TV screen. This gamepad allows me to do that.
Gaming & Controls
This OPS Wireless gamepad features digital triggers instead of analog ones. Also, it has a 360-degree concave thumbstick, dual rumble motors discussed above, and an 8-way floating D-pad.
Ideally, we shouldn't use the gamepad roughly. But we can't deny the fact that when we are fighting with an enemy aiming at us, we do use a gamepad roughly. Many times due to low quality built we end up damaging that gamepad. Evofox built this version of the Gamepad for gamers like us. Rugged Gamepad for, Rugged Players.
Gamepad has a 360-degree analog joystick with great precision for movement. It has a Turbo button located aside from the center. There are 4 direction keys on the left-hand side and a pressure-sensitive action button on the right-hand side.
Dual Vibration Rumble Effect provides accuracy and precision and enhances gamers' gameplay. It has rumble motors that help you hit the target with great precision. You will notice its importance while playing shooting games and I like this feature in this Gaming controller the most.
Warranty & Accessories
Aren't those the features showing how much premium this OPS gamepad is! To add more to it, Amkette Evofox provides 1 year of warranty.
While buying a Gamepad warranty is really important. If we face any manufacturing defect and try to fix it in local shops either they will ruin the performance or will cost a lot. So warranty provides assurance of the product. You'll get these accessories in the Evofox Gaming Controller Box.
USB receiver.
C-type charging cable.
USB TO USB Extender
2 Evo Fox Stickers
User manual with a 1-year warranty.
Wrapping Up
So, the EvoFox Elite Ops Wireless Gamepad Review is done. Now, I am going to tell you what I've experienced about this gaming controller after playing.
I am personally fond of playing games. You would agree with the fact that playing using gamepads is always a far better experience than using the keyboard. Over the period I have tried many gamepads, but from the time I have been using this Evofox Ops Gamepad.
At first sight, I really like the Design & build quality which is actually outstanding. You can feel like the premium product is in your hands. Connectivity is fast and good, just insert the USB connector, click the mode button, and in 1 sec you are good to go.
The Turbo button is really amazing, I haven't seen this feature in any other gaming controller under this price range. While gaming, we used to click a single button many times but you can use the turbo button to use that button repeatedly without pressing it physically.
Personally, I can say if you're looking for a gaming controller for your PC or Android TV then you should check this EvoFox Elite Ops Wireless Gamepad.