Last updated on April 18th, 2023 at 12:40 pm
Here, We're going to talk about the Best Apps for Instagram Stories. I've picked 6 awesome applications you can use to create next-level instagram stories for free.
Posting normal stories is way more common now. Why not create some attractive and interesting stories, and reels, and post without wasting much time.
Yes, you too can create those attractive designs easily on your phone. Let me tell you we have only discussed the apps which are free to use. So what's stopping you, let's try out all the apps and create amazing stories and reels.
6 Apps for Creating Awesome Instagram Stories in 2022: Best Apps for Instagram Stories
1. Canva
No doubt, you have heard this name earlier at least once. There is a misconception that the use of Canva is limited to graphic designers and requires high skill.
Whereas Canva is the most easiest and efficient way to create stories, reels, and posts. You can create your design using various shapes, frames, textures, and a lot of things.
You can also use a template made by other creators and just personalize it by adding your content to it.
Free to use (paid version available)
Pre-designed templates for free
Lots of variety of design
Easy to use
Variety of fonts for text
These are some key points that make Canva so special for you to use it. Try this app out and create your today's Instagram story.
Install Canva on Android / iOS
Read Also:
2. Inshot
This is another popular app, used to create Instagram stories and reels. It allows the user to remove its watermark by just watching one ad. It allows you the use of various types of animations, and word art to create interesting stories. It allows users to import videos at whichever resolution they want.
Collage maker available with a variety of layouts and ratio
Supports both image and video editing.
Free to use.
Resolution control feature.
These are some key features, which allow the use of Inshot on such a large scale.
Install Inshot on Android/ iOS
3. Storyart
Leading all other apps in play store rating, it is also one of the best and most efficient applications to create stories. It avails you of a large variety of fonts and design effects. You can also use templates made by other creators.
Free to use
Templates available
Exclusive design effects and themes Let us use this app to create engaging content.
Install Storyart on Android
4. Framelapse
Saying of reels, what can be better than time-lapse. Driving, hiking, talking, scenic, clouds, and not can be time-lapsed. You can use this app to record time-lapse. It allows you to control speed.  This app allows you to control effects and FPS.
Great video quality
Speed control features
Various effects can be applied
Free to use and compatible with all devices.
Isn't it a great idea to shoot a time-lapse accompanied by a slow Sufi song? If you enjoy time-lapse, then try it out.
Install Framelapse on Android / iOS
5. Filmm
This app has various frames and effects. It has noncopyrighted music to attach to your video and make it interesting. Currently, trending effects are updated daily on this app.
Up to date with trends
A large variety of effects.
This app is widely used to edit non-copyrightable material.
Install Filmm on Android / iOS
6. Over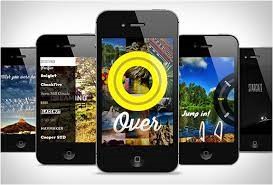 If you like writing quotes, poems in stories. This app is the best match for you. This is a text-over app. By using this you can avail a variety of fonts. It has guiding videos that show the wide use of animations and fonts in creating storied posts.
Free to use
Guides users to improve skill
It has a big helping community.
Use this app in your next story.
So these were the apps you can use for free to create your next Instagram story. Impress your crush or your friends we won't ask you that.