Last updated on March 7th, 2023 at 11:02 pm
Yes, today we are going to discuss our favorite topic which is Amazing and Free Turn Based Strategy Games For PC. Aren't they great fun? Planning and executing our own plans to defeat enemies.
But not all games promise fun, there are a lot of such games which might be boring and low quality.
To save you time and will to play, I have listed a few top Turn Based Strategy Games. All of them are different from the rest and promise a great playing experience So, here is the list.
8 Good Turn Based Strategy Games For PC: Free Turn Based War Games
1. Megamek
It is a Warfare game. In this, you are the leader of your battalion. You have an opponent with his army and on another side, it is you with your army of robots. You have control over commanding your battalion to march on opponents.
You can play these games offline as well as online. In offline mode, you have to fight against a bot. In Online mode, you can fight across the globe.
It is updating the rules from time to time, to give you a realistic experience by adding actual tactical operation rules. This is one of the best Turn Based Strategy Game and Most importantly it is free to download and play.
2. RISK: Global Domination
It is basically a board game, which is free to download and play. It has various different Geographical maps and you need to occupy the places on those maps. You have to defeat other players and occupy their territories.
You can find a lot of strong competitors and large communities playing this game. It has zombies, fantasy, sci-fi, and many more maps that enhance the player's experience.
3. Gear Tactics
It uses high graphics and works at a fast pace. You are Gabe Diaz, leading your squad in battle against the monsters from underground. You can customize your squad and upgrade their skills.
You need to be active and intense to win against the brutal enemy; the game gets really intense as the war proceeds. It is well renowned and holds a large community playing it. You should definitely try this one.
4. Remnants of Precursor
Here you have to choose an Alien species you want to be and then dominate the cosmos. You have to explore various different spaces and find places to colonize.
The game guides you well through space exploration and gamely is not that tough. It is available for free to download and play.
5. Battle Brothers
Here you are the leader of a mercenary troop. You have to take up contracts and fight the people. You can train your troop and upgrade their skills. You can travel across the world through the world map and take up contracts; you can loot places and kill enemies.
Along the journey, you have to find your allies, battle your brother, and win over your enemies. You can get a variety of weapons with different purposes, and strong ways of attack.
6. Unity of Command 2
This is a tactical war game. You collect the stragglers, unit which gets damaged during the war remains as stragglers. You can rewrite the history of the Second World War. Get your enemy's positions from stragglers, hunt them and defeat them.
You can plan and strike enemy bases beyond their line using sever lines. Playing these games is a great experience as it proceeds along with the history.
7. Battle For Wesnoth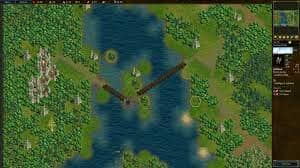 It is a free strategy game. The battle here is for the throne, to become a king. You can download campaigns, and maps created by the community and play with them.
You too can develop your own map and post it for the community. There are various missions in the game, and completing them is great skill and fun.
It supports both single and online multiplayer, so you can battle with players across the world.
8. Age of wonders: Planetfall
This is a 4X turn-based game. It features high graphical empire-building, sci-fi settings, and intense battles. You belong to the fallen cosmic empire and from there you have to build a new empire for your people.
Missions are really challenging and you need to be quick and brave while taking decisions to lead your army through them, but at the same time you need to take wise decisions.
It has the last cast of storylines, a feature to upgrade your troop, and a destructible environment that makes games more interesting.
Read Also: