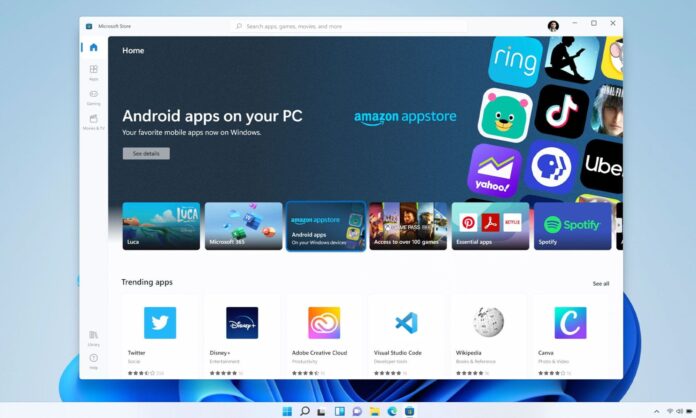 Last updated on March 7th, 2023 at 11:02 pm
Do you know, Now you can run the Android apps on Windows 11 without Emulator. Many apps are made to be run on android and they are not compatible with Windows.
If you want to use such an application on your computer, read this blog completely. We have discussed in detail how you can install these applications and run them on Windows 11.
This method can only be used on Windows 11. Microsoft has been testing to run the android app on the system. Recently, they officially declared the development of Windows 11, which is compatible with the Android application.
Read Also:
How to Run Android Apps on Windows 11 Without Emulator
There are certain requirements on which your Computer must qualify to be able to run How to Run Android Apps on Windows 11 Without Emulator. You can check these specifications in your PC About tab.
 System Requirements
Intel i3 and above
AMD Ryzen 3000 or above
Qualcomm Snapdragon 8c or above
A minimum of 8GB of RAM is required.
Disk: Head to Setting>System>Storage>Disk Volume.
There should be an SSD below the volume tag. If it is HDD then you won't be able to run the android application.
Version check
The compatibility with the android app is introduced in 22000.526 of Windows. Go to the About section in your settings, you would find the Window specification tag. Check your Windows version, if it is the one earlier than 22000.526 you need to update your windows but install a newer version.
Go to Windows update in your setting and update your windows.
Read: How to Create Own QR Code for Free: Step by Step
Virtual Machine platform
Most of the latest OS of the windows system has this feature of virtual machine platform enabled. But if it is not enabled you need to head to Microsoft website to know the process to enable it.
Each system has a different process to enable this feature. So you can use the specified process for your system. Enabling this Virtual Machine Platform is mandatory to run an android application.
Read: Top 5 Best Hidden Games in Android Phone Without Downloading
Microsoft store
Check and update the Microsoft store to the latest version. Downloading of Appstore for android app is been recently updated in Microsoft store.
Now, to let the android app run on the Windows system, the windows subsystem must be installed on it.
To install the subsystem head to the Microsoft Store and install Amazon Appstore. Install it, click on set up then hit download. Once it is downloaded, restart the system and a subsystem will be created.
Open the Amazon Appstore, and log in with your Amazon account to be able to use the store.
Once you log in, you will see all the available options of android apps, which you can install and use.
To install the application from Amazon Appstore, search the app by name in the search bar. Click on Get and your app will be installed, you can use it.
This is a newly added feature, thus it is in the prior stage. Developments are been done every day, and this will get better with time. This feature will prove really helpful and revolutionary.