Last updated on April 18th, 2023 at 12:40 pm
We're going to talk about how you can create a Upstox account for free. If you want to invest in Share Market then you need a Demat and Trading Account then you can start your trading.
There are so many Stock exchange services available like Zerodha, Groww, Upstox, and more but I preferred Upstox because you can use the limited time offer to create free Demat and Trading Account in Upstox. Another reason for choosing Upstox is the low brokerage charges means low Stocks Buy/sell cost and Zero Brokerage on Equity.
How to Create Upstox Account – Upstox Account Opening Process [STEP BY STEP]
I am going to show you how to create Upstox Account. The Complete Upstox Account opening process step by step with images. Just follow each and every step and you'll be able to create your Upstox Account in few minutes.
Step 1. Enter Email and Adhaar Number
Firstly, Open this Create Account page by Click on the below link. Then You'll get Free Upstox Trading and Demat Account also a stock absolutely free. Open the link and start following my steps.
Creat Free Upstox Account
Once you open the link, You will see yourself On this page showing in the image. Here, Enter your Email Address and mobile number. (make sure your Adhaar is linked with your number) This will make the process easy.
Enter your email address and phone number then click on Send OTP.
Now, you need to Input the OTP code you've got on your phone then click on sign up.
Step 2. Fill PAN Details 
Start filling in your PAN details, Enter your PAN details like PAN number, Date of birth exactly written on PAN Card then click on Next.
Step 3. Tell us a bit more about yourself
Here, you need to select your gender, marital status, annual income, and more.
I am male, marital status single, annual income 1Lakh-5Lakh, trading experience Less than 1 year. Politically exposed means are you involved in politics, If not then select No.
What is your occupation, I am in the private sector so I am selecting the private sector. Enter your Father's name same as written on your PAN Card.
Is your country residence other than India Means do you live other than Inda, select No.
Here is the Tax pay declaration, simply select I accept the above declaration and click on Next.
Step 4. Set your Trading Preferences
Equity is compulsory, you can't deselect this trading option. You can also select futures and options and Commodity. It's up to you, you can only go with Equity and you can enable other things later. Only Equity will make the account creation process easy.
Choose a Leverage plan on equity cash, Simply select the Basic Plan. If you have any coupon code for the discount, enter here or simply click on Next.
Step 5. Chance to Win a Free Stock
Here, Upstox offering you a Free Stock because you're coming through my link, click on YES.
Read Also:
Step 6. Enter your Bank Account Details
Enter your Bank Account Holder Name, IFSC code (if don't know, you can find IFSC Code in your bank passbook). Enter Bank Account Number then, select Account Type, mine is a Saving account, so I am selecting it. then click on Next.
Step 7. It's time to upload your documents
Pick a pen, put your signature on white paper then click the Photo and upload it by clicking on Tap to Upload.
The image should be in jpg or png format and the size should be less than 15MB. Easy, right. you can also click on view sample to know how to do it.
Now, leave the income proof option for now because it's optional. Upload your signature and click on Next.
Step 8. Now, Connect your Upstox Account with DigiLocker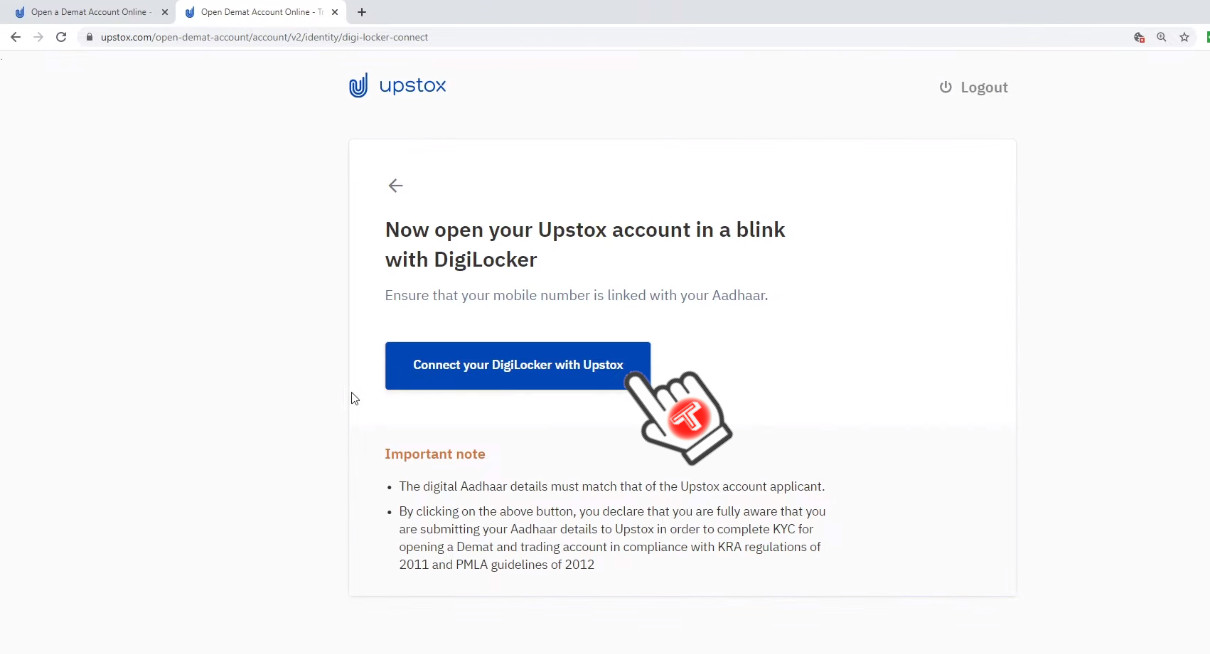 Digilocker is a service provided by the Government for upload and secure all of your documents online. Simply, Click on Connect your Digilocker with Upstox.
Here, Enter your Adhaar number and click on Next.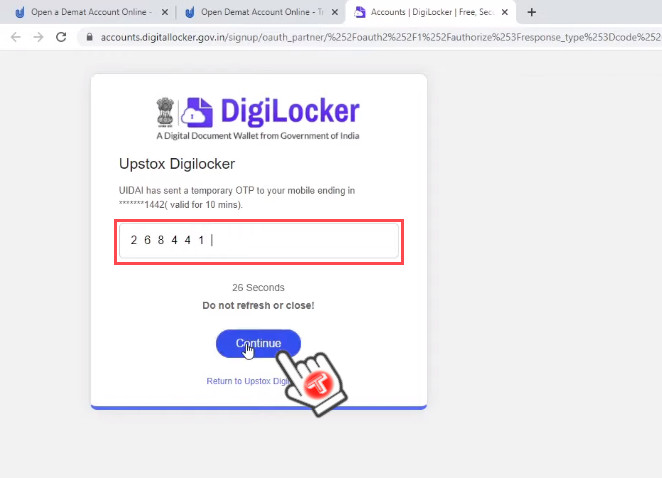 Now, you'll get an OTP on your Mobile number connected with your Adhaar. Input the OTP, and click on Continue.
Upstox Digilocker is asking for some permissions, Click on Allow.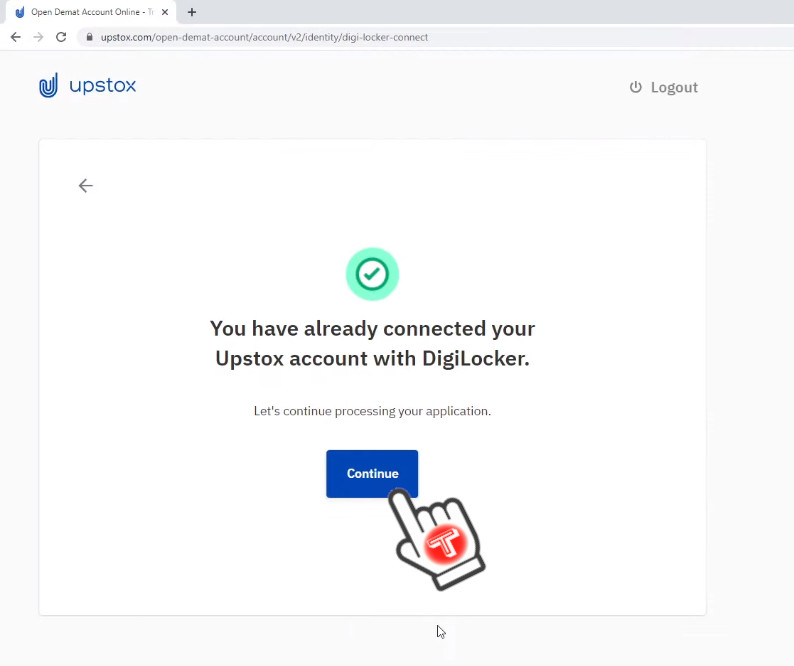 You've successfully connected your account with Digilocker, Click on Continue.
Step 9. Take a Photo and Share your Location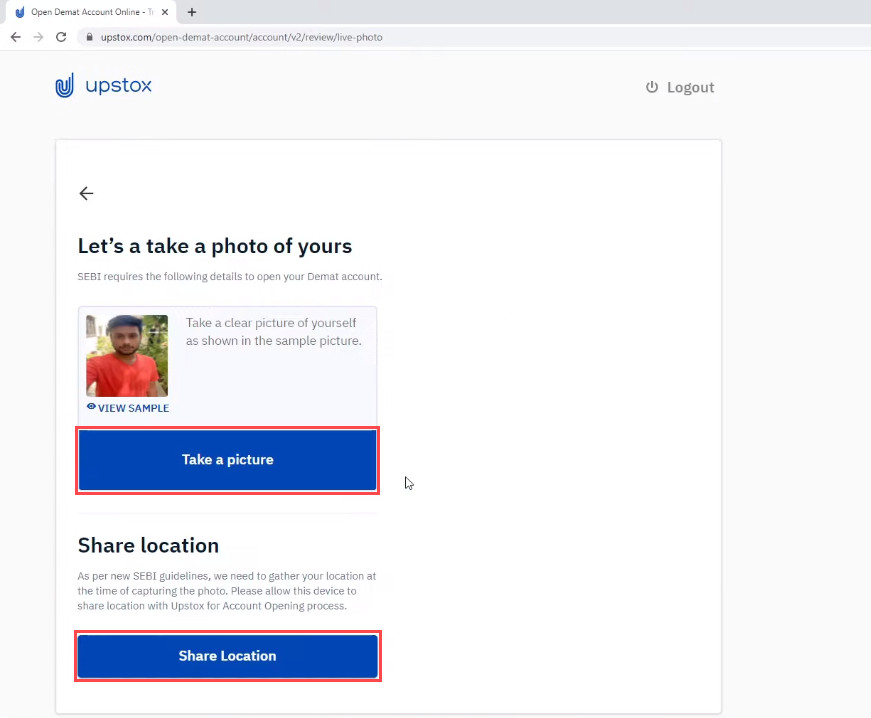 Now, It's saying, let's take a photo of yours. Just click on Take a Picture, take a clear selfie, and upload it. Also, share your location by clicking on Share location.
Step 10. Confirm Email Address
Here, Upstox will ask you to confirm and verify your email address. Click on Get OTP.
Then Copy the OTP Code from your Email and enter it here then click on Next.
Step 11. Upstox Free Demat & Trading Account Limited Time Offer
Now, you're getting a free limited-time account opening offer. Select Free Demat and trading account.
Next, Do you have your mobile number linked with your Adhaar card. Click on YES then click on Continue.
Congratulations, your limited plan offers are on their way, Click on Continue.
Step 12. E-sign your Application
Lastly, let's sign in to your application, Click on E-sign with Adhaar OTP.
Now, E-sign your form using your Adhaar number, Click on E-sign Now.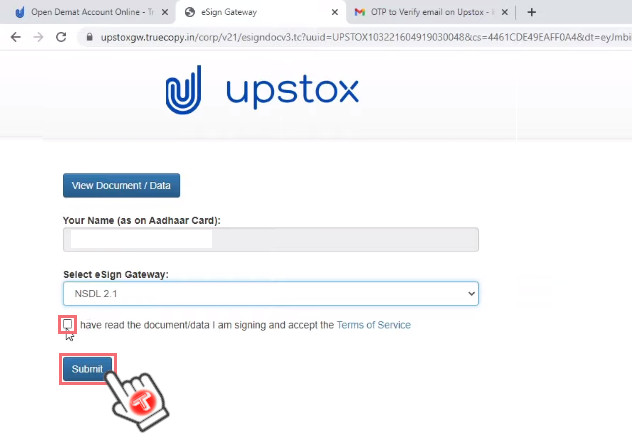 Now, it will show the name on your Adhaar card, Tick the box (I have read the document), and click on Submit.
Step 13. NSDL Electronic Signature Service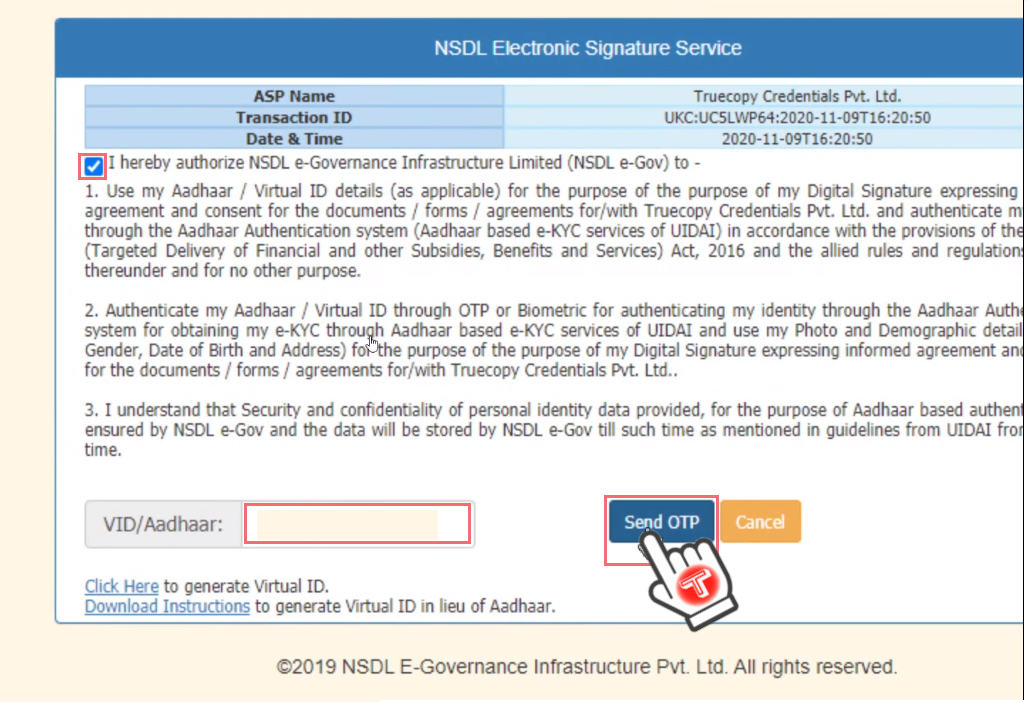 We're on the NSDL website, Enter your Adhaar number, Tick the box (I hereby authorize), and click on Send OTP.
Enter the OTP from the Phone and Click on Verify OTP.
Here, you can download your signed document, Simply Click on Click here to download your signed document and proceed.
Step 14. Application Submitted
So, Your Application is submitted now. It will take 1-2 days for the Upstox team to verify your Application and open your account.
After completing the verification process, you'll get your login details and other information in your Email.
Watch Video