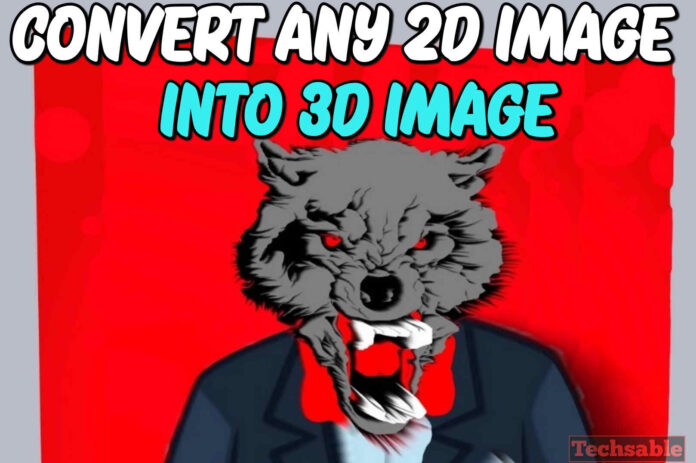 Do you know, You can convert any image into a 3D Image with just a Single Click. By using my method you'll be able to turn 2D image into 3D.
I'll show you how to convert JPG to 3D image online with step by step process. Also, I'll show you a 15sec Youtube short video to see what it looks like when you turn 2D into 3D.
We're not going to turn 2d images into 3d using photoshop or any app. We're going to use 3Dthis.com website. I know it seems easy, just head over to the website and convert any 2D image into 3D, right.
[TechsableAds]
No, it's not that simple. You can't find that feature that converts the normal image into a 3D model. So let's just not waste time and get forward to steps.
Read Also:
How to Turn 2D Image into 3D: Convert any Image into 3D Image
Now, You just need to follow me step by step in order to turn 2d image into 3D. Also, 1 quick tip you can take from my side. First try to convert any Animated image, not your photo. You can do it with your or someone's photo too but animated images look amazing in my experience.
[TechsableAds]
Step 1. Search 3D this on Google and Click 3D Photo Effects
You find this 3D Effect directly inside the website easily. The best way is to get it there,  just Search 3dthis on Google and click on 3D Photo Effects.
[TechsableAds]
Step 2. Upload 2D (Normal) Image
Here you can choose your Image file. Just click on Choose File, select any normal image and turn it into a 3D Masterpiece.
[TechsableAds]
Read: How to Watch 3D Movies on PC with Cinema 3D Glasses
Step 3. Your 3D Image is Ready
Here you can see your Converted 3D Image and on the right side, there are some settings you can use to tune up your 3D Image. This is a Screenshot but this image moves live. Also, you can move this image with your cursor too.
[TechsableAds]
By using the setting, you can save the image, slow or fast the speed, and most importantly you can change the intensity of the 3D effect in the image.
Now, let me show you what it looks like when you convert a normal image into 3D. Check this Short 15 Seconds video for a video demonstration: Convert 2D Image into 3D (Youtube Short).