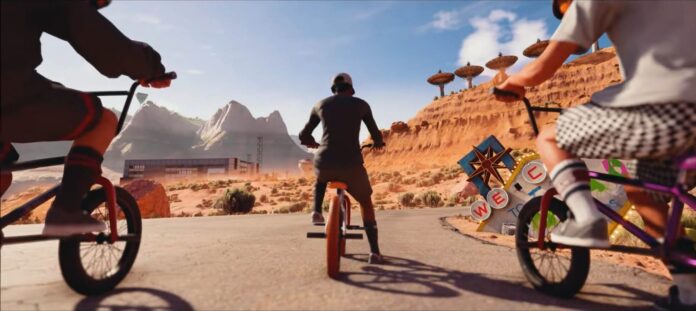 Last updated on March 7th, 2023 at 11:02 pm
Riders Republic Season 4 FreeStylin is Finally Here. Ubisoft Hat Die introduced the Season 4 riders republic, which brought a new campaign and many more.
The well-reputed bike company BMX will be complementing the bikes in riders republic season 4. Along with the bikes, we can see a new playground added to the game namely, Area 52.
Area 52 is specially designed for BMX riders to allow jumps, tricks, stunts, and many more on the rails and halfpipes.
The project Rebirth is also involved in this, whose aim is to take the campaign to global climate change.
Riders Republic Season 4 FreeStylin is Here
It's on the fans now to stop the thing from burning into ashes once it gets unfolded. The things are contrasted in the new season when compared to the previous ones.
The game includes an orange sky and a "fire smoke" fog throughout the game due to forest fires. To live alive from the toxic gas, the players are provided with gas masks by default.
Some parts of the map would be restricted in the game for the players because it wouldn't be breathable due to the forest fires surrounding it.
Also, the whole game will be running on red alert with a special Ruskin in the in-game social hub. So the players have to play consciously.
Players in the game are supposed to first detect the most fragile and flammable areas of Sequoia National Park by using the photo mode.
The photo mode displays real-world data that is integrated into the photographs of players in those flammable areas by default.
Once the area is detected the player has to reduce the risk of fire spread in the Park via joint activities. For instance: cleaning of brushwood, removal of trees with aluminum foil on the trunk, etc.
Fans can be able to access or download the new riders republic season 4 on the 14th of September 2022.
Read Also: