Last updated on March 7th, 2023 at 11:03 pm
After Reading this Whole Post, You'll not ask anyone How to Download Gif from Giphy.
Why Giphy?
Because Giphy is the biggest source for downloading GIFs for Free. Here you can get tons of Gifs for your need, and it's totally free.
You just need to learn the simple ways how you can Download the Gif from Giphy on your Computer, Android, iPhone, Macbook, or any other device.
I Know, You already knew that!
But today, I will show you the easiest way to download GIFs directly on your Windows PC, Android, or iPhone.
First of all, GIFs are so popular these days on social media. You can see a dedicated option on all popular social media platforms like Facebook, Twitter, and WhatsApp.
We've already discussed the importance of GIF Images in our previous posts.
Besides that, If you want to learn more creative stuff about Gifs, then these posts are my recommendation for you.
3 Ways to Download Gifs From Giphy
A year ago, We didn't actually know the importance of GIFs and the downloading way was way more difficult.
But, Time has changed. Giphy the Biggest Source of Gif allows you to Download Gif from any device.
Now, I'll show you the Best 3 methods to download Gifs from Giphy. After reading this whole post, you'll be able to download Gifs from Giphy with any device, like Android, Windows, Mac, iPhone, etc.
So, Let's see what are the 3 Methods to Download Gif from Giphy:
1) Download GIF on Android (

Using Giphy Android App

)
2) Download GIF on Android (

Online Method

)
3) Download GIF on Windows, Mac (

Online Method

)
How to Download Gifs From Giphy
Downloading Gif is such an easy task in Giphy. If you're spending the time to get user engagement on Twitter, WhatsApp or Facebook then GIFs will definitely help you to make your content viral.
Without wasting any time let's dive into the steps to know all the 3 best possible methods to download from Giphy on offline storage.
Method:

1

  Download GIF on Android (

Using Giphy Android App

)
Step 1. Install Giphy App from Google Play store >>Open App >>Click any GIF
First of all, you need to Install to Giphy Android App From the Google Play store. Although, This App is so popular on the Play store and it's an Editor's Choice also.
Simply Install Giphy Android App from the Google Play store or you can directly take a Shortcut by clicking on the below Google Play Link. It will directly Open the Giphy App on Playstore.
Install and Open the App, Click on any Gif Image you want to save.
Step 2. Click 3 dots
After Clicking on GIF. The Gif image will pop up on the screen and you need to click on 3 dots in the middle right corner.
Step 3. Save GIF
Now, here we're seeing 3 options. Open Source is for checking or visiting the webpage where this GIF Image was originally uploaded. But If you want to save the GIF, Click on Save GIF.
Method: 2

  Download GIF on Android (

Online Method

)
Step 1. Open Browser >>Giphy.com >>Click any GIF Image
I am using Google Chrome Browser in this Tutorial and I suggest you do the same.
You can Easily Save GIF Images with Chrome Browser and please Don't get confused with the Website Layout, it's looking like opened in App but it Actually opened in the Chrome Web browser.
First of all, Open the Google Chrome Web Browser and then open Giphy.com URL.
You'll get to see tons of GIF Images available for download, simply click on any GIF Image.
Step 2. Tap and Hold GIF
Once you get the GIF Popped up. After that, Tap and hold the GIF for a second and you'll see a Download image option.
Step 3. Click on Download Image
Now, that's how you can download GIF Image on Android using the Google Chrome Browser.
Similarly, you also do the same process if you're having an iPhone.
I have not tried this on different browsers. Therefore, that's the only reason I am suggesting you perform these steps on Google Chrome.
But, I would like to hear from you guys, If any other Browser supports Gif downloading from Giphy. Check out and let me know in the Comments. I'll wait for your comment.
Method: 3

  Download GIF on Windows, Mac (

Online Method

)
Step 1. Open Browser >>Giphy.com >>Click on GIF Image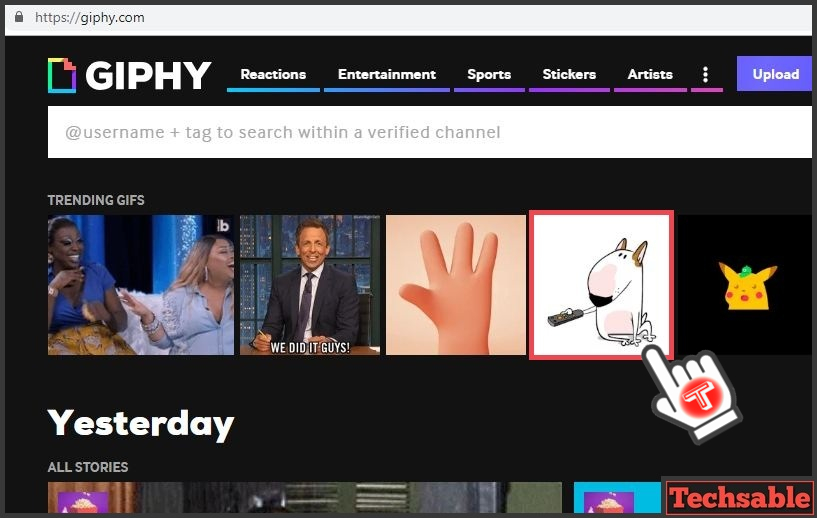 Open Chrome Browser on your Windows Laptop or in mac. You have to Open Giphy.com and Click on any GIF you want to download.
Step 2. Right-Click on Image >>Save Image as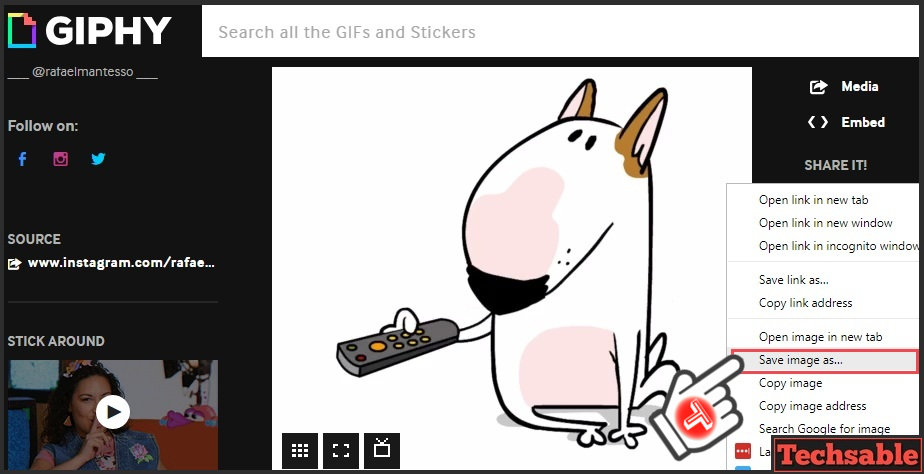 Here in this step, Simply right-click on the GIF Image from a windows desktop or laptop and click on Save Image As.
Step 3. Save GIF Image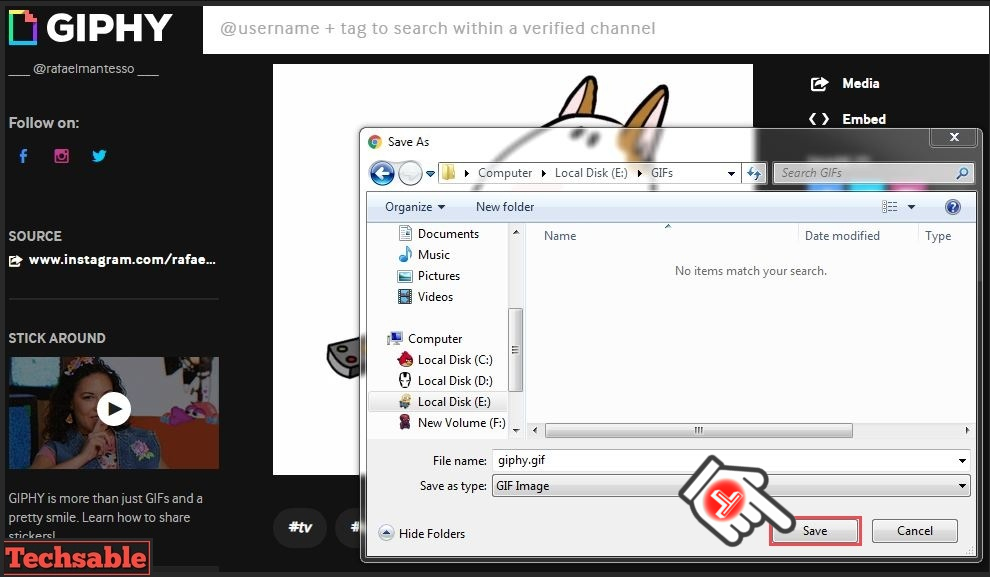 Now, Click on save to download the Download on your desired offline location.
In Conclusion, We've covered All the most Important Methods to download GIFs from Giphy.
Let me know If there is any other possible way to download GIFs from Giphy. We'll definitely cover it and if you like this post Spread your love on social media by sharing your Favourite Techsable Post.