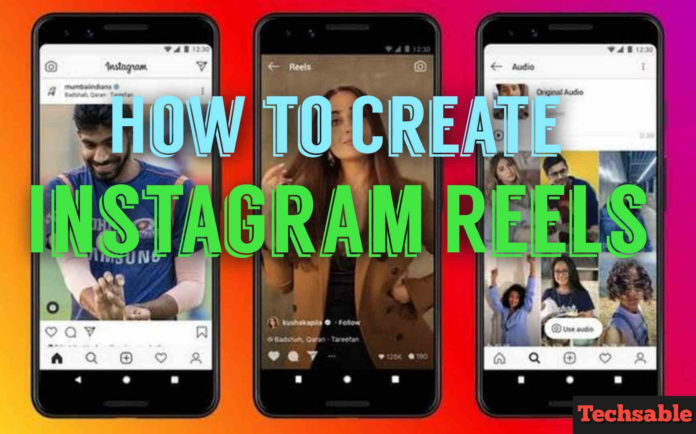 Today, We're going to talk about how to use Instagram Reels and I will show you how to create Tiktok-styled short videos using Instagram Reels on Android.
I will give you a complete overview of how you can watch and create a Tiktok-style Short 15sec video on Instagram.
As we all know, Tiktok is now Banned in India and for the huge Indian audience, Instagram released the reel feature. Instagram Reel is providing all the same features as Tiktok for making short 15sec videos with music and effects.
Users can take advantage of a video editor for Instagram for creating creative short videos on Instagram Reel to increase Followers on Instagram. Now, People got a new way of increasing followers on Instagram by creating a good short video with the help of Instagram Reel along with uploading engaging posts to increase followers, right?
[TechsableAds]
What is Instagram Reel?
Instagram Reels is a short video-creating feature with lots of tools like managing video speed (Slow motion – Fast motion), Adding music into the video, also you can add many effects, video start-stop timer feature, drawing, writing text, adding emoji, downloading video on your offline storage.
Read: How to Download Instagram Photos and Videos
Instagram Reels is a complete package for creating Tiktok-style videos in just a couple of minutes. You can easily find Instagram Reels in the camera option for creating Instagram reels.
I will show you step by step, how you can easily create reels video and how you can watch Instagram reels of other creators inside your Instagram App.
[TechsableAds]
How to use Instagram Reels on Android: TikTok Alternative
Instagram Reels is Quite Similar to Tiktok. So, If you can create a Video on Tiktok then you can use every feature of Instagram Reel very easily.
Step 1. Click on Search then Click on Reels
Open the Instagram Application on your Android Device and Click on the Search icon in the bottom then Click on Reels.
[TechsableAds]
Step 2. Scroll to Watch Reels, Create Reels by Clicking on Camera
Here you can watch all creator's reels by scrolling and you can like, comment, and share reels just like Tiktok. If you want to create Instagram Reels short video then click on the Camera icon located on the upper right corner then you can create your short video.
Read: How to Download WhatsApp Chat of Single Contact
[TechsableAds]
Step 3. Create Reels by Adding Music, Slow-mo, Effects, and Timer

You can use these features on Instagram Reel just like Tiktok. Let me explain to you about every feature located on the left.
Add Music: This feature allows you to add music in your short video. You can select any part in the song for your video with the help of lyrics, yes this feature is amazing.
Video Speed: In this feature, you can change the speed of your video Like Slow Motion, Fast Motion.
Effects: Instagram Reels allows you to add many effects to your short video, just click on the Effects, scroll from the bottom, and try.
Timer: This feature is used to start or Stop a video at a specific timing.
Select and use any one of these features and start creating your short Instagram reel video.
[TechsableAds]
Step 4. After Creating the Reel you can Download a Video, Add Stickers & Emojis, Draw & Add Text
Once created the video, you can use features located on the upper side for adding some creativity to your video. Let's understand, how you can use these features after creating a video.
Download Video: By Clicking here, you can simply download your short video in your offline storage like Internal Storage or Memory Card.
Add Stickers & Emoji: Use this feature to add unique stickers and Emojis and also, you can change the size when adding into the video.
Draw Something: Show your creativity in the video, use this feature to draw something, draw quotes, name, autograph.
Add Text: You can add text in the video like you can write quotes, text, lines. Also, you can change the text font, size, and color.
[TechsableAds]
Step 5. Share Instagram Reel Video in Reels and Stories
After creating the video, you can share the short video in the reels section or in the story. Save as Draft if you want to publish this video later.
You can Add the Description, hashtags, and select the preferred cover image. Once, it's done then you're ready to publish your first Instagram Reel.
After Creating your First Instagram Reel, Share or Save as Draft then the Reels tab will start visible in your Instagram Profile section.