Last updated on March 7th, 2023 at 11:03 pm
Do you know, you can create your Own GiF by converting a Video to GiF online.
GIF stands for Graphics Interchange Format. GIF is a moving dynamic image that just works like a small video without sound.
When you play a GIF Image, it will continuously play in a loop. All the Live Wallpaper you've seen in Android and iPhone, most of the Live Wallpapers are inspired by GIF Images.
Because if you see with focus then you can also see the loop in Live Wallpapers.
We're continuously using GIF Images on all biggest Social Networking Platforms like Facebook, Instagram, Twitter.
Let's find out how we can convert a video to GIF Image. Besides that, I will tell you the way to create an Effective engaging Funny GIF Image from a video.
There are many available GIF Maker apps, software, websites, and some other online tools which can help you to convert a video to GIF.
Besides that, you can also make professional GIFs by using photoshop but it's not too easy for beginners.
Let's start with the two easiest methods for creating a GIF Image.
Multiple Images to GIF
Video to GIF
Multiple Images to GIF: If you've ever created an Images slideshow, it will easy for you to understand how this method works.
In this GIF Method, you can convert Multiple images into GIF Image. If you want to Share Some images on social media with the never-ending images scrolling loop, Creating a GIF Image would be a great option.
Also, you can change the images scrolling speed and put some text into it.
Video to GIF: In this method, you can cut some funny or important part from a video and create a GIF from GIF Maker.
The Easiest and effective method to create GIF Images from video. You can get popularity on social media so easily if you use this method correctly.
Mostly the Effective GIF Images running time is 4 to 6sec Long.
How to Make Funny GIF from Video
If you have a running Facebook page or you want to make your Instagram, Twitter account popular then you need to learn how to make a GIF because a Funny GIF is such an eye-catching media and it will definitely help you to gain more followers and their attention.
Play a funny video, select and cut the video part maximum up to 5sec would be good. Make sure to cut the funniest reaction because there is no sound in GiF Image.
Once you cut the short video part, let's see how we can convert Video to GIF online.
How to Convert Video to GIF Online
Step 1. Open EzGIF Website >>Upload Video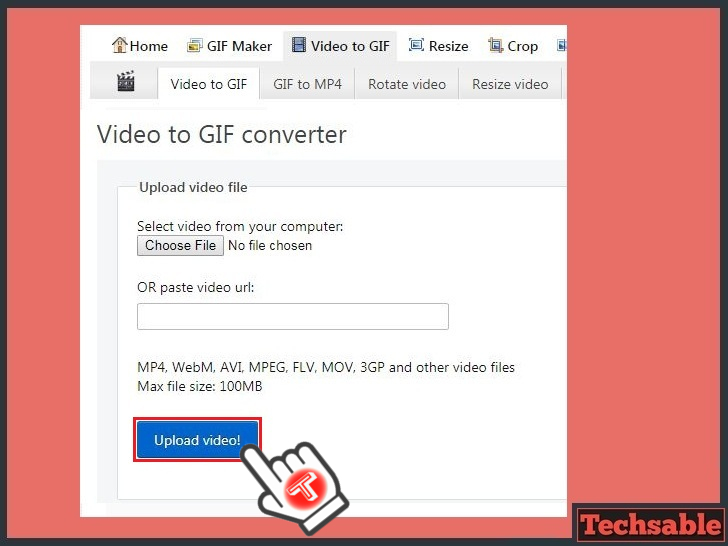 Firstly Open the Ezgif Online GIF Maker Tool and upload the short video part.
Step 2. Select the Start and End Time
Once you upload the video, Select the video start and end time duration to get the exact part from the video.
Step 3. Convert to GIF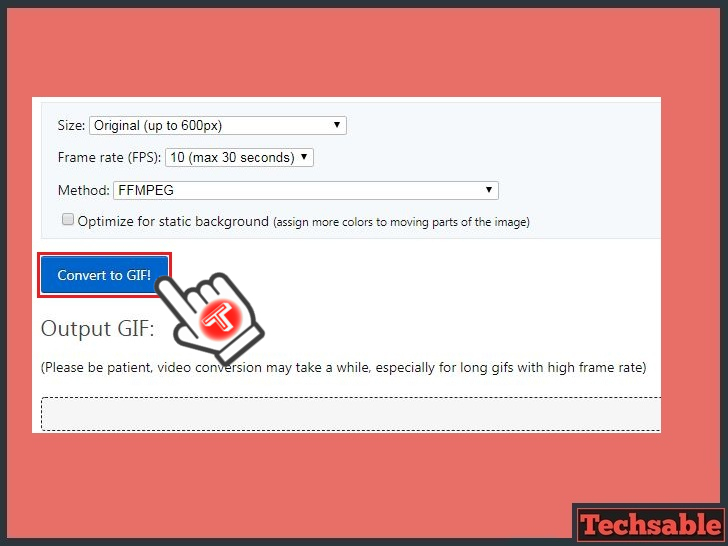 Select the Size, Frame rate, method, and tick the Optimized for the static background then click on Convert to GIF.
Step 4. Save the GIF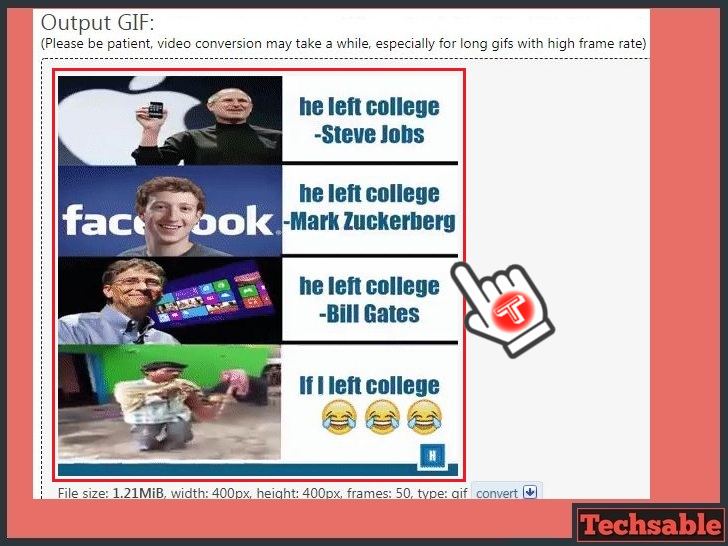 In the Output section, you will get the converted GIF Image. On PC, Right-click on the image and save it. On Smartphone, Tap and hold the output image to save the GIF.
If this post is helpful for you, share it with your friends.