Last updated on March 7th, 2023 at 11:03 pm
If you haven't used this feature yet then I suggest you turn on invert colors in Android device and enjoy the awesome colors experience on your Android. There are lots of benefits you'll get if you use invert colors in Android.
If you prefer reading books or many informational contents overnight on android then apart of Night mode, invert colors is also a good option for the relaxation of your eyes. This feature was only available for iPhone devices but now this feature is available for Android users too.
Let me tell you a secret, If you're a PUBG Mobile player then you can turn on inverted colors in Android and enjoy the secret PUBG Mobile hack to find hidden enemies.
If you want to know how invert colors can help you in PUBG Mobile to locate hidden enemies then, read this post: How to Find Enemies in PUBG Mobile: Invert Colors Hack.
Let's back to the topic, invert colors feature turns display colors into some cool color combinations that you definitely love it.
I will show you how to turn on and turn off invert colors from the status bar so that you can easily enable or disable invert colors in Android whenever you need it. When you've no use left then you don't have to go into settings every time for turning it off. In fact, you can do it conveniently from the status bar.
How to Turn on Invert Colors in Android Device
You can enable Invert colors by going into settings >>Accessiblity >>Color Inversion but it's a little bit difficult for every android user to turn on or turn off invert color in Android by going into settings every time.
I will show you how you can add an invert colors option in Android's status bar just like night mode. You can add an invert colors icon in your status bar and use this feature whenever you need it.
Step 1. Click on the Edit icon in Status Bar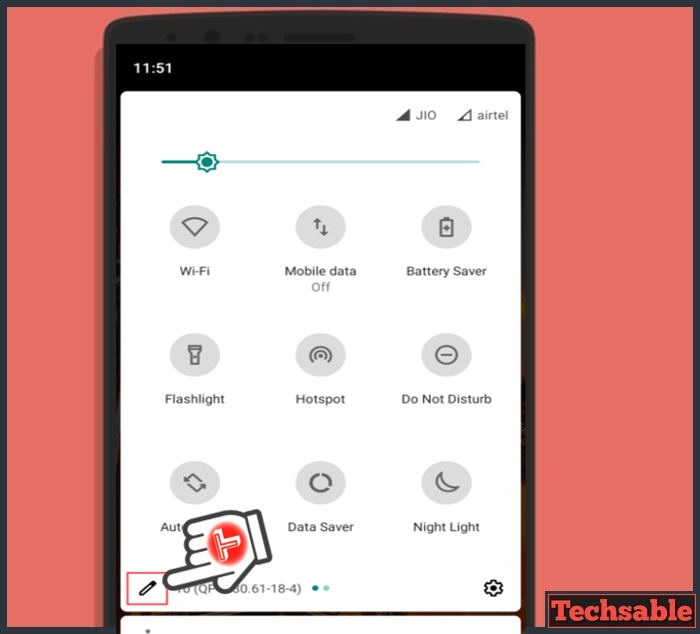 You need to click on the pencil icon used for edit such as add, remove, and arrange status bar icons located on the left side of the status bar.
Step 2. Drag Invert Colors icon into the Main status bar icons
After clicking on the Pencil icon, you will see the icons you can select for your status bar. In simple words, arrange your status bar with the items you really needed in your status bar.
Read: PUBG Mobile Loot Map: High Loot and Vehicles Location 
Add the Invert Color Option in your status bar and make sure to add in the top three, so that whenever you need to turn on for reading or any other purpose then you can do it from the status bar.
Step 3. Use Invert Colors from the status bar
Whenever you want to read something in Android like Ebook then I suggest you enable the Invert Colors option from the status bar in your Android and enjoy the best ever relaxing colors experience.