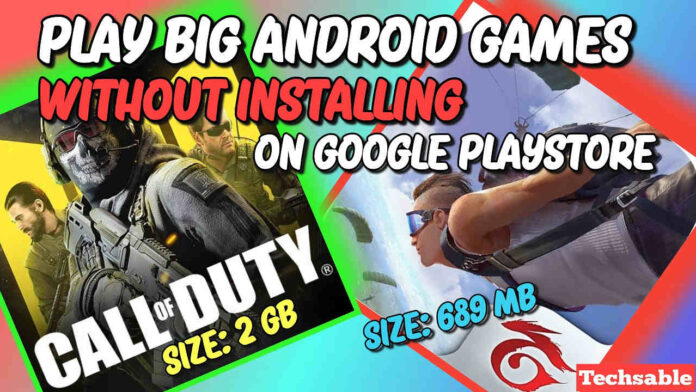 Last updated on March 7th, 2023 at 11:03 pm
Do you know, You can play or try Big Google Play store Games without Installing. I am going to Cover Everything on this topic, How to try Big Google Playstore Games on your Android and Why it can be so much helpful for you.
In 2016, Google Launched Google Play Instant, and this feature allows you to Try Some Applications and Games on Google Playstore. First, try then decide whether to install it or not. This Process can save your Internet data and obviously time.
Let me explain how and why I mentioned Big Games in the title, Suppose you're a PUBG Mobile Player, and now you want to try some other Big games like Free Fire (689 MB), COD Mobile (2GB),  kind of big games.
So, here are the two cases. First, you can Install those Big Games today on your Android and tomorrow or instantly uninstalled it just because this game didn't up to your expectations.
The other choice is, Open Google Play Store and just Try the game. It kind of a demo you will get, not the complete game but a demo you can try if you're unsure about any game.
Read Also:
Just Try the game then decide you want to actually ready to invest your precious storage, internet data, and time to install this game.
How to Try Big Google Play Store Games Without Installing
Google Play Instant allows us to play Android Games without downloading. You can try many Applications and Games from the Google Play store.
Try Big 2GB-4GB games without installing them on your Android device. So Without wasting any time, Let's get into the steps.
Step 1. Open Google Play Store, Search For Big Game and Click on Try Now
If you want to try Large Android games like COD Mobile (2GB), Free Firee (689 MB), or other heavy games then open the Google play store on your Android device and search for the game.
As you can see in the screenshot, Don't install this time instead click on Try now to Try this game instantly.
Step 2. Game Will Start Loading
After Clicking on the Try now option, Google plays instant will start loading the game for you. It will not take long, the game will ready to play in few seconds.
Step 3. Play the Game Without Installing
By using Try Now option, you can decide whether to install this game or not. Google Play Instant provides this kind of Demo game and this will help you to be sure of your decision to install this big game or go for another one.
Try now option available for some games and apps on the Google play store but you'll get this option in most of the Big Games like Call of Duty Mobile, Free Fire, PUBG Mobile.