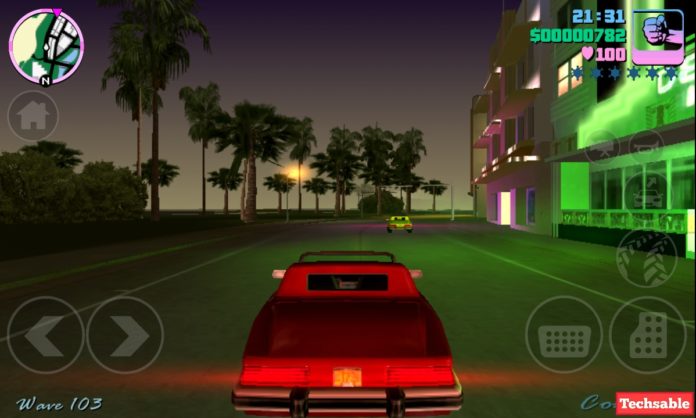 Last updated on May 23rd, 2023 at 05:35 pm
How to install GTA vice city on Android phone is question game lovers ask on the internet. As we all know GTA Vice City is a very Popular and Addictive Game Series. Do you know, You can Play GTA Vice City on Android Phone?
Grand Theft Auto Vice City game was developed for the Windows platform and Sony PlayStation. But now you can easily play grand theft auto vice city on your Android phone.
You can't install this game from the google play store like other Android games but it's not as difficult as you think.
You just need to download the Grand Theft Auto Vice City Apk file and Data which I have already provided in Step 1. Now, let's talk about whether your Android phone can play this game or not, I mean what are the system requirements of the GTA Vice City game on Android?
I have tested this game on a low-end Android device having 1 GB RAM and 1 GHz CPU and you know what, you can play this game on any Android Smartphone. So you can Install and Play GTA Vice City on Android devices.
Follow the Steps to know, how to install GTA vice city on an Android phone.
Read Also: How to Use Cheat Codes on GTA Vice City Android.
How to Install GTA Vice City on Android Phone
Step 1. Install GTA Vice City App and Data
Now you need to install the GTA application and the data. For your information, the Application Size is 10MB, and Data File Size is around 1GB.
I found this link genuine for Downloading Apps and Data. If you don't like this link for downloading both Files, Simply Search on Google and you'll easily find the link on another website. You can also install the GTA Vice City Game App from Google Play.
Firstly Download the GTA Vice City Apk file from this Direct Link, Simply Click on it, and Downloading will Start.
After Downloading Apk File for Android, Download the Vice City data file. I have provided a direct Google Drive link so that you can download the Big 900MB (Approx) Vice City OBB File Easily.
If you get the Obb file in a compressed format like .zip or .rar then don't worry, you can easily unzip or RAR Compressed File then you'll get the original GTA Vice city data file in . Obb format.
I will tell you how to uncompress any file in our further step.
Step 2. Install Android App

After Downloading Both Files, Install the Android App and Don't Open the App until I say.
Step 3. Extract Zip Data File
Now You have downloaded a Data File in .zip Compressed format. Extract the Zip File then you will get .OBB File in it.
If you want to Extract Obb File on Windows PC then use 7zip Software and if you want to do it on Android then ZArchiever would be a better choice.
Now you have Installed the GTA Vice city game and Data file in .obb format, let's jump to the next step.
Step 4. Open File Manager(Internal Storage) >>Android >>obb
Go to the File Manager, and Open Android Folder >>obb. If there is no obb Folder in Android Folder then Create One.
Also, create a new folder named com.rockstargames.gtavc in obb folder. Now you have created two Folders, 1st is obb Folder in Android Folder and 2nd com.rockstargames.gtavc in obb Folder.
Step 5. Move Data File in com.rockstargames.gtavc Folder
Now move or cut/paste the GTA Vice City data obb extension file in com.rockstargames.gtavc Folder.
Step 6. Check GTA Vice City App Info
After moving the data file inside com.rockstargames.gtavc folder, check the GTA Vice City App Information.
If you have successfully Followed All steps, you can see the data and App are synced now.
Step 7. Open GTA Vice City and Enjoy Gaming
All Steps have been done, Now you can enjoy the best ever GTA gaming experience on your Android device.